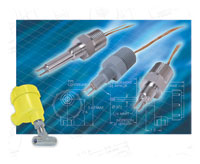 Custom Flow Sensors, Flow Meters, Flow Switches, Level Switches for OEM Applications
We realize manufacturers of industrial/commercial equipment and machinery, and control system designers have diverse and technical requirements for flow and level sensing products. Fluid Components International (FCI) is a world leading manufacturer of built-to-specification and semi-custom flow and level sensors with designs that meet specifications and exceed quality expectations.
Features Include

| | |
| --- | --- |
| Compact size | No orifices |
| Low cost | Ultra low flow sensitivity |
| Rugged with no moving parts | Line sizes down to 1/4 inch tube |
| Wide turndown | Large duct applications |
| No pressure drop | Powered from 5 Vdc |
OEM Products

Flow Meters
OEM mass flow meters are used in air, compressed air, nitrogen, methane, natural gas, carbon dioxide, argon and other gases in applications that require wide turndown ratios (100:1), low flow sensitivity, no moving parts and negligible pressure drop.

These products feature true mass flow analog outputs (without additional pressure or temperature transducers) as well as temperature, totalizing and alarm outputs.



Flow Switches
OEM Flow switches are used in liquids, gases and slurries. They are ideally suited for low flow pump protection, monitoring lube oil, detecting seal leakage, verifying analyzer flow, monitoring cooling water and other critical applications.

These products feature 300 series stainless steel rugged industrial design with no moving parts and negligible pressure drop. Optional materials of construction include CPVC with Hastelloy C-22 tips for corrosive applications.



Level and Interface Switches
OEM level and interface switches are used to provide reliable point detection in liquid and gas, liquid and liquid, liquid and foam, foam and gas interface applications.

These low cost products feature solid-state or relay contact outputs in a wide range of materials independent of conductivity or dielectric constant and can resist a high degree of coating.