Fluid Components International (FCI) Sensors for Aerospace, Aircraft Applications


The FCI Aerospace Division provides temperature, liquid level, flow and pressure instrumentation to the commercial and military aircraft, space, vehicle and marine industries throughout the world.
Our Products consist of sensor elements, switches and transmitters for all applications including critical flight worthy and qualified requirements. Our Engineering staff also provides technical services for design, flight test and calibration support of these programs. This assistance includes preparation of FCI design or customer provided ducting and piping to simulate flight of vehicle conditions and installations in our multi-million dollar calibration facility. This assures reliable operation of FCI instrumentation in the harsh aerospace and military environments of our customers.
News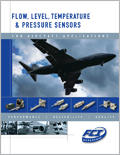 New Product
Catalog Available



FCI and SEA Lean
Enterprise System